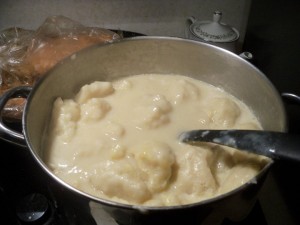 Maw Maw's Dumplings *****
3 cups or more of self-rising flour (we don't measure lol)
add to water mix up thin but not watery will be sticky pour some oil, stir.
Take 5-6 cans of chicken broth in a large TALL kettle, add a can cream  (evaporated milk) and a stick of butter
bring to a boil.
Take spoon or ice cream scoop, and drop spoon by spoon into boiling mixture (fast) put Lid on tightly
Reduce heat to simmer and DO NOT PEAK AT ALL FOR 7 MIN.
while it cook, put in a cup 3 tbsp. Cornstarch and mix with water till no lumps and after 7 min is up pour over dumplings stir gently this should thicken your gravy if you need more repeat the process
. Done