I made two recipe today from Feb issue of "Ladies Home Journal" and they are both keepers. I'll post one now and the other one later. This is a recipe for "Lemon-Blueberry Drizzle Bread." I loved the sweetness of the blueberries and the tart lemony taste from the zest in the bread, the lemon sugar syrup you pour on top and the lemon drizzle glaze you drizzle across the bread. A keeper for sure.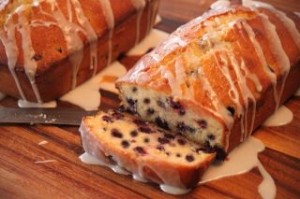 Ingredients:
1 and 1/2 cups plus 1 teaspoon all-purpose flour
1 teaspoon baking powder
1/2 teaspoon kosher salt
1/2 cup unsalted butter at room temperature
3/4 cup plus 3 Tablespoons granulated sugar
1 Tablespoon lemon zest
3 large eggs (room temperature)
1/2 cup whole milk
1 teaspoon vanilla extract "real"
1 cup blueberries
4 Tablespoon lemon juice
5 Tablespoons confectioners' sugar
Directions:
1. Heat oven to 350 F.  Butter and flour a 9-by-5-inch loaf pan.
2. In a bowl sift together 1 and 1/2 cups flour, baking powder and salt.  In another bowl beat the butter, 3/4 cup granulated sugar and zest on medium-high speed until light and fluffy.  Add eggs one at a time, beating until each is incorporated.  Add milk and vanilla and stir until blended.  Add the dry ingredients and stir just until blended.  Toss blueberries with 1 teaspoon flour and gently stir into batter.
3. Scrape batter into prepared pan.  Bake until lightly browned and a toothpick inserted into the center comes out clean, about 50 – 55 minutes. Transfer to a wire rack set over a rimmed baking sheet and let cool in pan a few minutes, then turn out onto rack.
4. While bread bakes, make syrup.  In a small saucepan boil 3 teaspoons lemon juice and 3 Tablespoons granulated sugar over medium heat until syrupy, about 2 minutes.  Remove from heat.  Using a wooden skewer, pierce sides and bottom of the bread all over.  Brush with syrup.
5. To Make Glaze:
In a small bowl, stir together confectioners' sugar and 1 Tablespoon lemon juice.  Drizzle glaze over cooled bread.  Makes 1 loaf.
Variation: In winter when blueberries aren't in season, make lemon-poppyseed bread.  Omit the blueberries and add 1 teaspoon poppy seeds to batter.