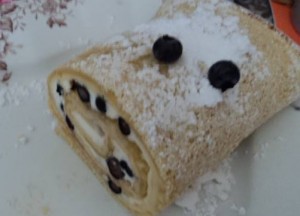 Recipe and Photo Submitted By Kath Hoelzlhammer
Alla Tinn's posting the other day of the Strawberry Roulaude, got me motivated to bake… my jelly roll recipe!
This is what was left of it on Tuesday morning,(so I guess it was a hit with the other 3 people in the house!)
It's a fresh blueberry and cream cheese filling.
I used the jelly roll directions from the "Betty Crocker Cookbook" It's my favorite. The filling I winged.
Filling:
1 8oz package Cream Cheese. I put into the mixing bowl out of the frig and started whipping with 3 teaspoons of powdered sugar,(the ones you eat with not the measuring ones) a few drops of lemon extract and checked it after a bit. As it wasn't getting the consistency I wanted I add pinches of Cream of Tarter and continued whipping till it was creamy. Then spread it on the cooled roll and sprinkled with berries, and rerolled it up and refrigerated it till dinner.
Betty Crocker Jelly Roll :
1 cup sifted cake flour
1 1/2 tsp baking powder
1/4 tsp salt
2 eggs
3/4 cup sugar
1/2 tsp vanilla
2 Tbsp milk
1/2 cup confectionary sugar for dusting
1 cup of strawberry jam or filling of your choice, cream cheese ect.
Preheat the oven to 375 degrees F (190 degrees C). Line a 10×15 inch jellyroll pan with parchment paper.
Sift together the flour, baking powder and salt. Set aside. In a large bowl, beat eggs and sugar with an electric mixer until thick and pale, about 5 minutes. Stir in the vanilla and milk. Stir in the dry ingredients gradually. The batter will be thin. Pour into the prepared pan.
Bake for 8 to 10 minutes in the preheated oven, until the center springs back when pressed lightly. Don't over bake, or it may crack.
Generously dust a clean dish towel with confectioners' sugar. Turn the cake out onto the towel, and peel off the parchment paper. Gently roll up the cake using the towel, and let cool for about 10 minutes.
Unroll the cake, and spread an even coating of jam onto the top. Roll the cake back up into a tight spiral, and remove the towel. Dust with confectioners' sugar before serving.