so my very talented cousin posted this yummy photo of cotton candy fudge.. YES I said cotton candy fudge!! smile emoticon I got the recipe from him and he said I could share it with you all..
RECIPE AND PHOTO SUBMITTED BY JOEY TUCKER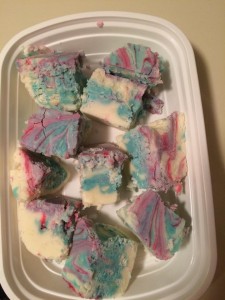 COTTON CANDY FUDGE
Ingredients
2 cups sugar
3/4 cup butter
12 ounces white chocolate or vanilla chips
7 ounce jar marshmallow creme
3/4 cup heavy whipping cream
.10 ounce packet Duncan Hines Cotton Candy Frosting Creations flavor mix
Pink food coloring (I used McCormick NEON food color)
Directions
Line a 13×9 inch pan with foil and spray with nonstick spray. Combine sugar, butter, heavy cream and butter in a saucepan, cooking and stirring over low heat until the sugar is dissolved. Once the sugar is dissolved, bring the contents to a boil while stirring for about 4 minutes. Remove from the heat and mix in the marshmallow creme and vanilla chips until all of the chips are melted. Pour 3/4 of the mixture into the foil-lined pan. Add the cotton candy flavor mix to the saucepan and stir until well mixed. Drop or drizzle spoonfuls of the cotton candy mixture over the mixture already in the pan. Add 2-3 drops of the pink food coloring in various areas on top of the fudge in the pan, and then cut through the fudge with a butter knife to make the swirls. Cover and allow to set in the refrigerator. Remove the fudge from the pan by picking up with the foil and then cutting into squares.