JACKED AND STACKED BROCCOLI AND CHEESE
sometimes the simplest recipes are the tastiest!!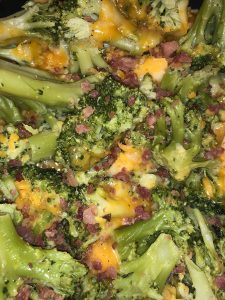 Take a bag of frozen broccoli and pour into your pot. Add some water and salt and put on high heat. Bring to a boil and put lid on, turn down heat some and let it boil a little then steam.. (make your broccoli however you like, but I want mine soft with just a bite)
Drain off water when broccoli comes to the point of desired cooking.
Salt and pepper lightly.
Shred an 8 ounce block of Colby & Monterey Jack Cheese over steaming hot broccoli.
add a tiny sliver of real butter and toss broccoli.
next sprinkle a little shredded cheddar cheese over top lightly and some real bacon bits to your liking.. Serve while warm … DELICIOUS!!!
I served mine today with fried potatoes a jalapeño seasoned  pork loin cooked  the crock pot in chicken broth. With Strawberry Lemon Poke Cake for dessert