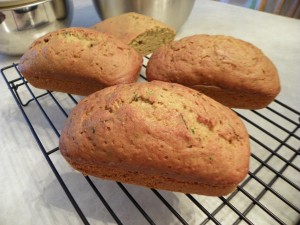 PHOTOS SUBMITTED BY : Irma Gillispie-Hull
Baked Zucchini Bread to freeze & then serve at Thanksgiving & Christmas.
Serena Adkins Ellison these are BEAUTIFUL!!!!!!! I love zucchini bread
Thanks for sharing Irma =)
Suzanne Bond LOVE!!! I absolutely love zucchini bread, I always get my mom to make it for me 🙂 Ill have to try this , I need to get a bread pan
Irma Gillispie-Hull You can bake most quick breads in just about anything. an 8×8 pan, cake pans & etc. At Christmas I bake my orange bread in cans.(vegetable cans)
Serena Adkins Ellison I like to make zucchini bread in a 9×13 pan and put sweet cream cheese icing on top … it is like a cake… so good
Suzanne Bond thanks for the tips , Ill have to try them 🙂
Teresa Allen Hadn't thought about putting cream cheese frosting on top! Splendid idea! I freeze zucchini in quart bags and there is enough to make 4 loaves of bread.
Irma Gillispie-Hull I didn't feel like baking bread all day,lol so I did the same. Measured out the amount I'd need for each batch & put into freezer bags then I flatten each bag so they stack nicely in the freezer.
Serena Adkins Ellison awesome tip irma