RECIPE AND PHOTO SUBMITTED BY Alexandra Lim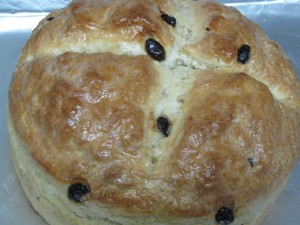 Irish Soda Bread
INGREDIENTS
4 cups white flour, plus more kneading the dough 
1 teaspoon baking soda 
1 teaspoon baking powder 
1 teaspoon salt 
2 tablespoons sugar 
2 cups buttermilk 
Currants, raisins, or other dried fruit, to taste (optional) 
Butter, for greasing the pie pan and serving 

DIRECTIONS
1. Preheat the oven to 375 degrees.
2. Sift together into a large bowl the flour, baking soda, baking powder, salt, and sugar. Add the buttermilk and currants, raisins, or other dried fruit and mix until just combined and a dough forms.
3. Lightly dust a work surface with flour. Knead the dough for 2 minutes and shape into a round loaf.
4. Butter an 8-inch pie pan and place the dough inside. Cut a cross along the top and bake for 35-40 minutes. Enjoy warm with butter.