HOW TO MAKE DAVE'S EASY PEASY ICE CREAM CAKE FOR PENNIES

Okay guy's, I just got back from a 50th birthday party tonight.. my husband's Aunt Nancy. Anyway I was really impressed.. her husband Dave made this beautiful ice cream cake.. it was beautiful and tasty…. come to find out it is easy to make too… AND cheap.. if you compare the cost of our normal DQ ice cream cakes that range from 17 t0 30 bucks and he made his out of store bought ice cream bars that cost about 5 dollars at Sam's Club or  3 boxes at walmart comes to about 6 bucks but you have a whole box leftover minus the ONE you used in the third box…….here is how he made it.
RECIPE SUBMITTED BY: DAVID SIMMONS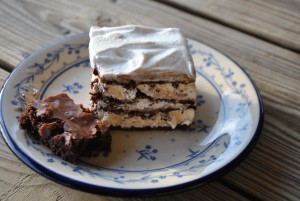 HOW TO MAKE DAVE'S EASY PEASY ICE CREAM CAKE FOR PENNIES
So you will need
Hershey's Syrup
Cool Whip
Store Bought Ice Cream Bars (about 25)
can add a layer of chopped or crushed candy bar like peanut butter reese's or butterfingers.. Caramel is also an option
NOTE – if you want to serve it on a fancy platter or board instead of the pan it was made in you can.. just line the pan with aluminum foil with lots of overhang to lift out with . may need to thaw it on the counter for 10-15 minutes before lifting it out of the pan and placing it on a serving board. You can also skip the foil all together and serve it straight out of the pan.
So I decided to make one for Jesse's 8th birthday.. let's see how easy this is..
Okay so you just layer your bottom layer of bars in a 9×13 pan or plastic container as long as you have a lid..
as you see when you get to the end of the row it is a tight fit but push it in.. It WILL fit.. it is ice cream.. LOL..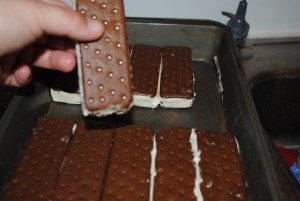 now for the middle row you will simply cut in half the bars.. the pic below is a total of 12 bars in the pan..but as you see ONE whole is left… so time to open the next box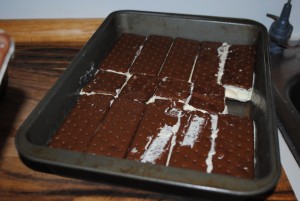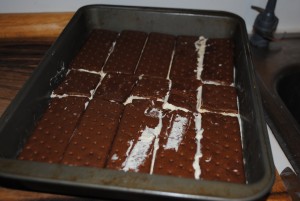 now spread some hershey syrup over top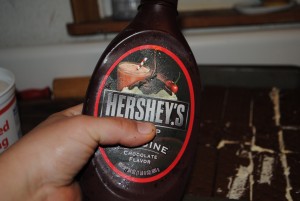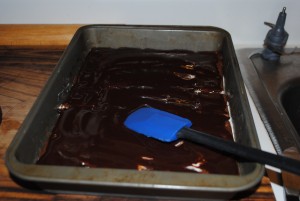 spread a layer of coolwhip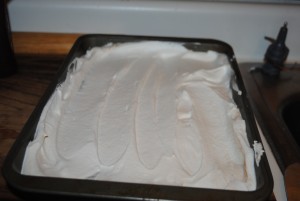 add another layer of ice cream bars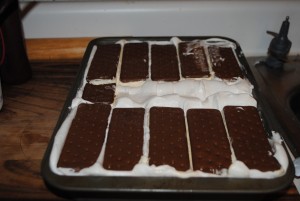 and top off again spreading syrup over top and some cool whip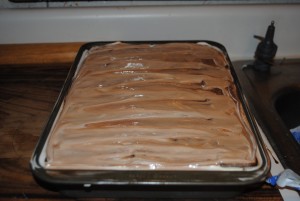 I could have added more cool whip like Dave did but I wanted to keep it thin so I could try and write Jesse's name and new age in Hershey's Syrup.. let's see how it freezes… LOL hopefully it will look good.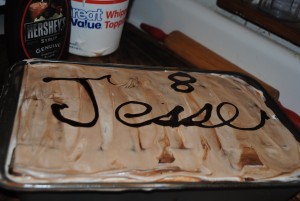 Cover with lid then plastic wrap and put in freezer for an hour or two or till your party.. I am making mine two days ahead actually…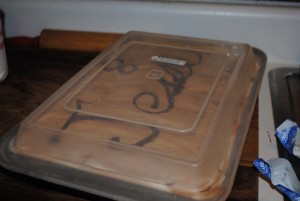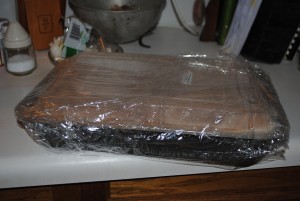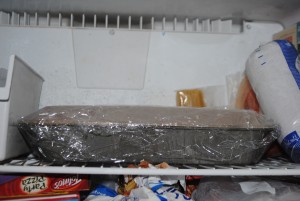 Daves was soooooo pretty…..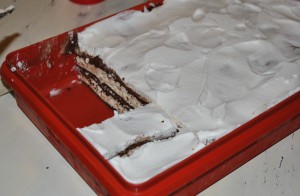 Take out and slice.. Enjoy…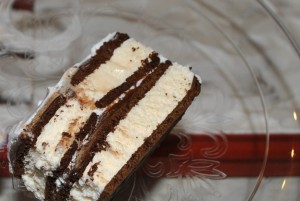 WE SURE DID!!!!! THANKS DAVE . THIS IS A KEEPER!!!!!!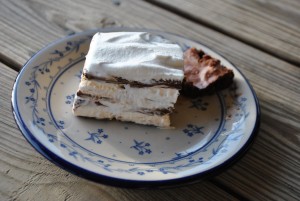 HERE IS A NEW VERSION OF THE SAME DISH.. SO GOOD !!!! Made this one for my Hubby Paul's Birthday..
Ice cream cake made like usual only this time I put chunks of choc chip cookies in the middle layer and Paul's favorite candy bar the REESEE CUP choped up on top and spelled out his name first in REECE CUP SLICES then overlapped with Choc Syrup before freezing.. came out yummy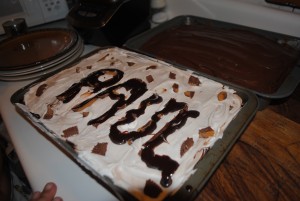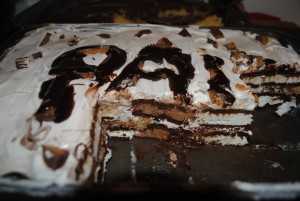 You can make them extra large as well if you have the freezer space
October 2023
M
T
W
T
F
S
S
« Sep
1
2
3
4
5
6
7
8
9
10
11
12
13
14
15
16
17
18
19
20
21
22
23
24
25
26
27
28
29
30
31