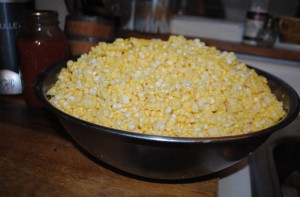 How to can corn
I prefer to freeze my corn which the recipe is on this website.. but I have canned it as well and it is still good. Sometimes you don't have the  freezer space.
Just do a raw pack
Husk and Clean Corn
Cut corn from cob without scraping
Pack corn loosely into hot jars leaving 1 inch head space
do not shake or press down.
Add 1/2 tsp salt to each pint or 1 tsp salt to each quart. Cover with boiling hot water, leaving 1 inch head space. Remove air bubbles. Adjust caps. Process pints 55 minutes, quarts 1 hour and 25 minutes at 10 lbs pressure.