HONEY ALMOND CHICKEN WITH MASHED POTATOES AND ASPARAGUS

RECIPE AND PHOTOS SUBMITTED BY Alexandra Lim
Honey Almond Chicken with mashed potatoes and asparagus – this was so good, hubby had a 2nd helping!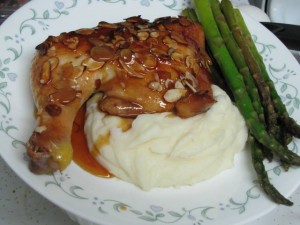 The recipe is very simple.
Use 4 pcs. of chicken (I used bone-in breast and leg quarters) The sauce is enough for 4 pcs. of chicken
30g butter, melted
1/3 cups honey
1/4 cups sliced almonds
1 Tbsp. soy sauce
Place chicken in a butter dish. Combine all the ingredients and brush over the chicken pieces. Bake at 375 for 40-50mins till cooked through and golden brown.
You may opt to boil and reduce the liquid from the pan to use as a gravy.