homemade pumpkin rolls all sliced and ready to eat..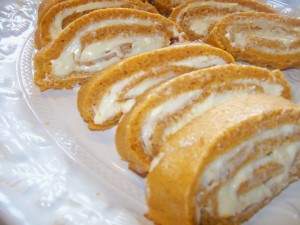 Pumpkin Roll
3 eggs
2 tsp cinn
1 c sugar
1 tsp ginger
2/3 c pumpkin
1/2 tsp nutmeg
1 tsp lemon juice
3/4 c self rising flour
3/4 c pecan nuts
Beat eggs for 5 min on high speed slowly. Add sugar stir in pumpkin and juice. In another bowl mix flour and spices add to pumpkin mix pour on cookie sheet and top with nuts bake 350 for 15 min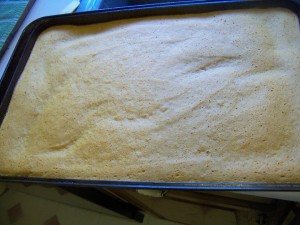 1. Pumpkin bread on cookie sheet
lay out on towel or wax paper and put confect sugar on it and dump cake on it then roll up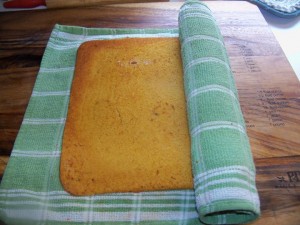 2. roll in towel
3.Let cool completely
sprinkle confectionary sugar over  board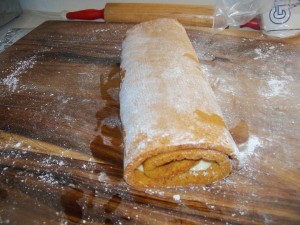 4. unroll and put cream cheese filling inside roll up and as you roll use powdered sugar as to not stick …
DONE .. Cut…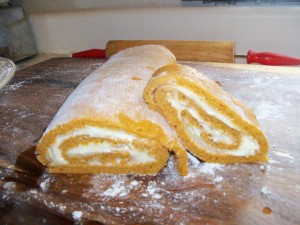 Cream Cheese Filling  Recipe
1 c confectionary sugar
1 tsp vanilla
8 oz cream cheese
4 tbsp butter (1/2 stick)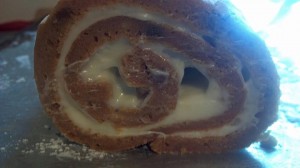 COMMENTS FROM FACEBOOK GROUP TRIED AND TRUE
Kim Guignard I make these and substitute sweet pot. for pumpkin…
Serena Adkins Ellison Thanks for the tip Kim
Debbie Fann Young Serena I use wax paper on my dish towels and it is easier to roll them up and dont stick to the towels… I make 20 at a times some days and that way I can bake them all in a day and roll up and put in the fridge till I get ready to do the fillings…. 🙂
Serena Adkins Ellison I stuck mine in the freezer for 15 minutes to cool .. I sprinkled heavily with powdered sugar so it wouldn't stick to the towel… This one is not rolled as tight as it should be.. I was in a hurry.. but it tastes good LOL
Kim Guignard I do the same thing Serena
Judith Parady Rice I do too!