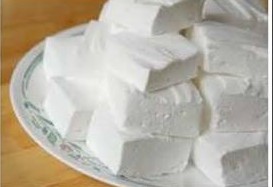 these are amazing!
HOMEMADE MARSHMALLOWS
1 cup confectionary sugar for dusting
2 cups white sugar
1 Tbsp light corn syrup
3/4 cup water
1/2 cup water
4 Tbsp unflavored gelatin. about 5 packages
2 egg whites
1 tbsp vanilla extract
dust a 9×9 inch square baking dish generously with the powdered sugar
In a small saucepan over med high heat, stir together white sugar, corn syrup,  3/4 cup water.
Heat to 235-240 degrees or until a small amount dropped into cold water forms a rigid ball
While syurp is heating, place 1/2 cup water in metal bowl and sprinkle gelatin over the surface.
Place bowl over simmering water until gelatin has dissolved completely Keep in a warm place until syrup has come to room temperature
Remove syrup from heat and whisk gelatin mixture into hot syrup. Set aside. In a separate bowl, whip egg whites to soft peaks, continue to beat pouring syrup mixture into egg whites in a thin stream until the egg whites are very stiff. Stir in vanilla Spread evenly in prepared pan and let rest 8 hours or overnight before cutting.