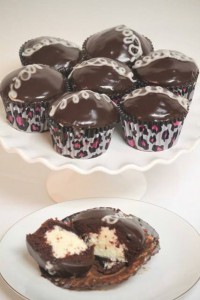 "Homemade Hostess Cupcakes"
Cupcake Ingredients:
1 cup all-purpose flour
6 Tablespoons unsweetened cocoa
1/2 teaspoon soda
1/4 teaspoon baking powder
1/4 teaspoon salt
8 Tablespoons Unsalted butter, softened
1 cup sugar
2 eggs at room temperature
1 large egg yolk, at room temperature
1/2 teaspoon vanilla
1/2 cup boiling water
Marshmallow Filling Ingredients:
1/2 cup Crisco
1 cup sugar
1 teaspoon vanilla
1/2 cup butter (softened)
1/2 cup milk scalded and cooled
Chocolate Ganache Ingredients:
2 and 1/2 ounces bittersweet chocolate bar finely chopped
1/4 cup heavy cream
Swirls on Top of Cupcakes:
1/2 cup confectioners' sugar
1 to 2 teaspoons milk
Cupcake Directions:
Preheat oven to 350 degrees F. Place cupcake papers in muffin pan. Whisk the flour with the cocoa powder, baking soda, baking power or salt.
In a large bowl beat the butter 2 minutes until smooth and creamy. On medium speed gradually add the sugar, beating until light and smooth 5 minutes. On low-speed beat in the eggs and egg yolk one at a time. Beat in vanilla.
On low-speed add the flour in 4 additions beating well after each one. Drizzle in 2 tablespoons of hot water one at a time, mixing briefly until a smooth batter forms.
Fill the cupcake liners with 1/4 cup of batter each. Bake 18 to 20 minutes until a toothpick comes out clean from the center. Cool in pans on a wire rack 10 minutes then remove and completely cool on wire racks. If your cupcakes rise too high and aren't flat on top you can turn them on their side and slice off the tops with a serrated knife to make them level. Save them and make mini whoopee pies with the leftover filling.
Make marshmallow filling as directed and transfer to a large pastry bag with a cupcake filling tip, or any wide tip. Stick the tip down into the center of each cupcake and squeeze out filling into the cupcake until you start to feel the cupcake expand. Be careful to not fill too much or the cupcake will crack on top. Just fill until you see the cupcake expand and you see the filling at the opening of the cupcake. This takes a little practice, but pretty easy once you get the feel of how much of the filling to squeeze into the cupcake. Once the cupcakes are filled, set aside until you make the ganache.
Make Marshmallow Filling:
Beat all ingredients together until smooth and until it's like whipped cream and doesn't taste sugary.
Use for cupcakes and filling.
.
To Make the Chocolate Ganache:
Chop 2 and 1/2 ounces of a bittersweet chocolate bar finely and put in a heat proof bowl. Heat the heavy cream to a simmer in a small saucepan. Pout over top of the finely chopped bittersweet chocolate bar and let sit for 2 to 3 minutes and then whisk until smooth. Dip each cupcake top into the melted chocolate and let excess chocolate drip into the bowl. Then turn upright until the ganache dries. Once the chocolate has dried on all your cupcakes, they are ready for the swirls on top.
To Make the Swirl Icing:
Whisk confectioner sugar with a teaspoon of milk, add more as needed to make a thick icing. If the icing is too thin, your swirls will run together. It's important to have your swirl icing as think as you can and still be able to pipe it out on top of the cupcakes. True Hostess Cupcakes have 7 swirls, but it your only able to make 5 or 6 that's okay, no one else will be counting the swirls! If your icing is too thin, add more confectioner sugar, if it's too thick, add more milk, but only a teaspoon at a time. Pipe out your 7 swirls starting at one side of the cupcake and ending at the other side.