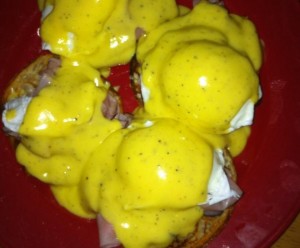 Homemade Hollandaise Sauce for Eggs Benedict
Ingredients:
12 tablespoons room temperature butter
3 egg yolks
½ teaspoon salt or to taste 
1 teaspoon lemon start with a ½ and taste some lemons are stronger than others
½ teaspoon pepper
1 big pinch of cayenne pepper
Directions:
In a double boiler with simmering water add the egg yolks and whisk well, then add 1 tablespoon at a time until all butter has been incorporated. Add lemon and spices and keep whisking until sauce coats the back of the spoon. If mixture is too thick thin with a tablespoon of water. Serve immediately.
This sauce is not for someone on a diet, but so YUMMY
For Eggs Benedict :
I used toasted muffins and super thin West Virginia ham with poached eggs pour sauce over top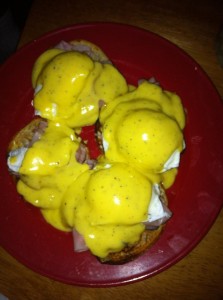 Note:  this sauce pairs awesome with asparagus.