HAMBURGER SKILLET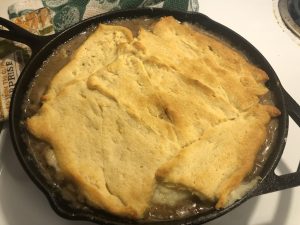 in a ten inch skillet add butter and  brown 1 pound of hamburger with a slice of minced onion (about 3 Tbsp) and 4 cloves of garlic minced
splash some Lea & Peerrins Worcsestershire Sauce. Stir well and break down any large chunks of meat with whisk.
Next move all meat away from center of pan and add some butter, and a little flour, enough to make a roux.
Brown the flour in your butter and gradually work in your beef broth. (1 can of beef broth)
(You can do two cans if you want it extra soupy because the potatoes does soak up some of it)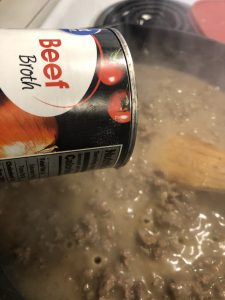 Have hot mashed potatoes made (5 potatoes mashed and creamed with butter salt and milk or you can even cheat and use 2 small bags Idahoan buttery homestyle mashed potatoes to make it a quick and easy after work meal)
Next add Mashed potatoes to your skillet and smooth it out with a rubber spatula, dont go all the way to the rim.
Sprinkle a little shredded cheddar cheese a little Mozzarella and a little Parmesan Cheese over top.. not much.. just a bit.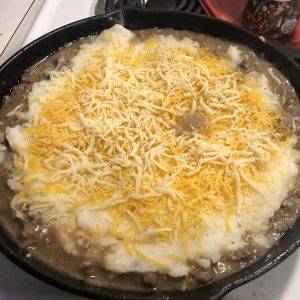 Then take one can of Crescent Rolls and arrange over the front. Pinch the seams together. doesn't need to look pretty .. you are gonna tear into it soon.
put into 375 degree oven about 10 minutes or until the Crescent Rolls are done and it is bubbly all around edges.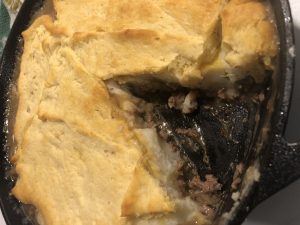 Serve with Buttered Peas and Enjoy!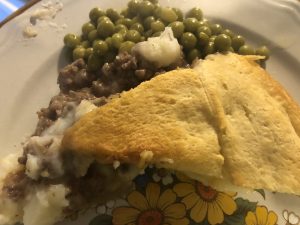 October 2023
M
T
W
T
F
S
S
« Sep
1
2
3
4
5
6
7
8
9
10
11
12
13
14
15
16
17
18
19
20
21
22
23
24
25
26
27
28
29
30
31