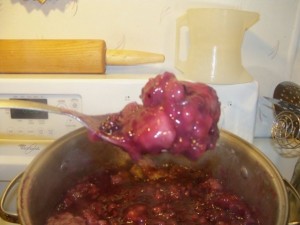 I made this recipe in the summers with fresh picked berries and special occasions like Easter or just for good ole comfort food in the winter by using frozen berries.
It is a recipe my family has handed down through the generations. Berries are plentiful here in Southern West Virginia.
Years ago times were hard especially during the war. This recipe brought much comfort and joy in such times. It is so simple and cheap to make yet is so rich and wonderful. I have taken this from my own family book to share with you. I hope you enjoy it.
GREAT GRANDMA EFFIE'S BLACKBERRY DUMPLINGS
1 quart Fresh Black Raspberries or Blackberries (or at least or two 1 lb. bags frozen Black Berries)
Self-rising flour (about 4 cups of flour if you had to guess) and water to mix (we don't measure just mix your flour with water till not too thick not too thin and add about 1 1/2 Tablespoons of oil).. now note- I add a tbsp of sugar to the flour mixture but you do not have to..the berry juice will be plenty sweet enough for the dumplings ..
carefully clean  then boil berries in  sugar water –(About 4-7 cups water, its really according to how much berries you got)
Add 3 cups of Sugar (or more)
add a bit of butter the size of an egg (this recipe can be made without the butter as well)
Bring berries to a full rapid boil, let boil a bit to make a sweet berry syrup.. quickly drop by the spoonsful batter into the boiling stock pot till all batter is gone. Don't tarry.. get it done fast..
Quickly put on lid and turn down heat to a simmer.. DO NOT PEAK
Let boil 7-10 min without taking lid off no peaking!!!!
Have a cup with 4 Tbsp cornstarch mixed well with  a little bit of water (just enough to mix the cornstarch to pourable) set it  to the side ..
– thicken berry juice with corn starch/ water mixture if needed. sometimes you need it sometimes you don't
Serve warm with vanilla ice cream or plain. or with a tad of sweet milk if you like..