GITTER BULB ORNAMENTS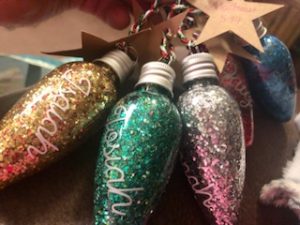 These are really fun and easy to make. Kids love to pick what color Glitter they want, and they like to help fill the funnels and shake them.
I made these for our Connect Class at Church. The kids got to help.
First you will need some clear plastic bulbs from Hobby Lobby.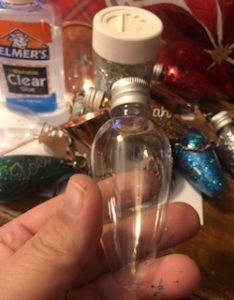 The ends screw on and already have a little ring for you to put your ribbon.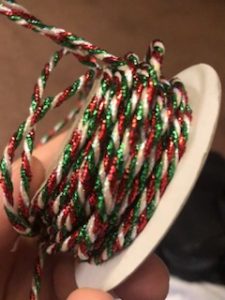 Next some clear Elmers glue. (If you use white Elmers glue you must water it down a little and use a syringe to put it in the ornament, Clear is just easier to work with)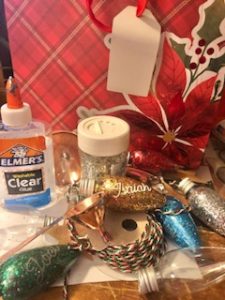 So you take your glue and add to the ornament and twist the ornament, trying to cover all of the inside of the ornament with glue. then we let the child pick their color of glitter and a small funnel to get it in… put the cap on tightly and let them shake and roll it to coat… We did have a few spots that didn't coat and we just added more glue and glitter.
I did empty some of the glitter out but quickly decided that I was going to end up using super glue for my caps anyways so that the parents didn't have to worry about glitter going all over their homes. Just a little peace of mind haha, but that is totally up to you.
I put a sticky note on each one with the childs name so I wouldn't forget who picked what color.
Took them home and printed out their names on my cricut. I first chose silver vinyl but it does not show up well on the glitter, white vinyl showed up the best in my opinion.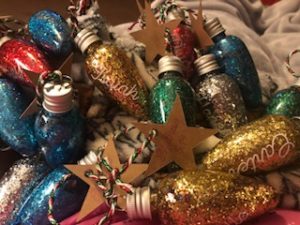 I also made tags in the shape of stars for my tags  with Matthew 5:14 wrote on with my Cricut to remind them that they are the light of the world, those who walk with Jesus can not hide their light.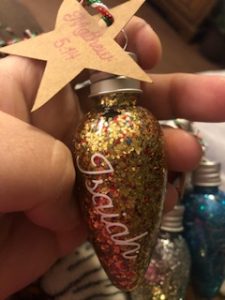 I will definitely make these again.
June 2023
M
T
W
T
F
S
S
« Feb
1
2
3
4
5
6
7
8
9
10
11
12
13
14
15
16
17
18
19
20
21
22
23
24
25
26
27
28
29
30