My mother in law makes a yummy WW Taco Soup and I took some from it plus some of my own additions and it is a tasty combination.
This is a Quick, Easy, and very Tasty Meal. Just a bunch of cans to clean up and one pot to wash, not bad.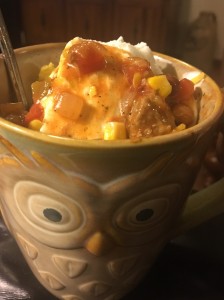 Serena's Favorite Taco Soup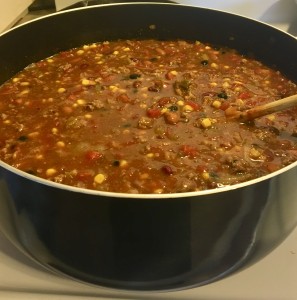 Brown 2-3 pounds ground beef with one large diced onion. Clove of minced garlic, optional
Salt and pepper.
Drain
Add 1/2 cup Tones Taco Seasoning or just use 2 envelopes of Taco Seasoning, a little chili powder
Add a (28 oz) can petite diced tomatoes in juice,
Add 2 cans yellow sweet corn, undrained
Add 2 cans drained and rinsed dark red kidney beans
Add 1 can green chilies
Add 1 can mild Rotel
Add 1 can Hot Chili Beans, undrained
Add 1 can creamed corn
Add 1 (16 oz) petite diced tomatoes
Add 1 can Mixed Beans Northern-Pinto
Add 2 cans Black Beans
Add 1/2 cup ranch seasoning or two packets
Add 1 cup Chicken Broth
Stir and add in one jar mild Salsa
Stir, and taste. Add pepper if needed.
Let soup come to a slow boil then turn down and let the beans tender
This soup is the easiest you could ever make. It's done. I'd you want to have it a little more soupy, just add more chicken broth or water.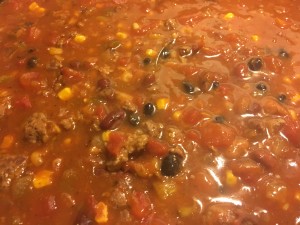 Serve topped with tortilla chips cheddar cheese, shredded lettuce and a dollop of sour cream if desire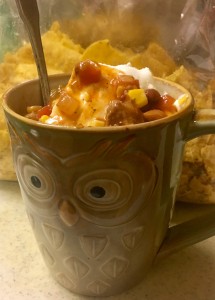 Also great for feeding large crowds like at church or school festivals