EASY KIDS FRUIT KABOB SNOWMEN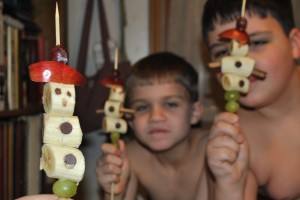 you will need apple, grapes, chocolate chips, banana, sticks, and skinny stick pretzels for arms I didn't have any so I substituted kit kat's which the boys didn't mind one bit LOL they LOVED making their snowman.. =)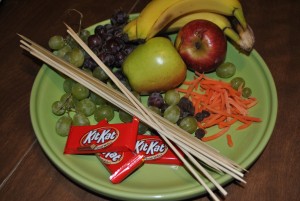 First cut up your banana pieces on the plates for each kid you have … today we just made three but this is great for a group of kids.. =)
you will need THREE banana pieces.. make them chunky and try to make one smaller than the other  (think Snowman)  now slip one grape on to hold the whole thing together.. then put on  your bottom part of snowman….
Next put on a chocolate chip pointy side inward into the banana for a button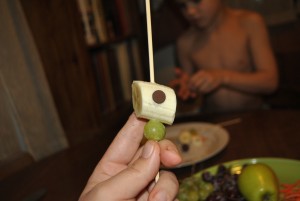 do same for next piece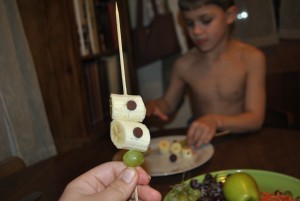 Now you want to pick out a carrot with a good point for your nose and stick it in and cut one choc chip into eyes.. like the pic (Only Randy has his wrong the meaty part of the banana is how it should go on stick not the sliced part cause it stays on stick better)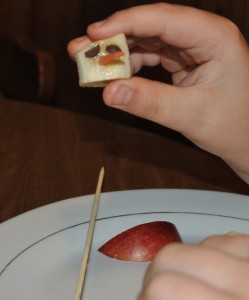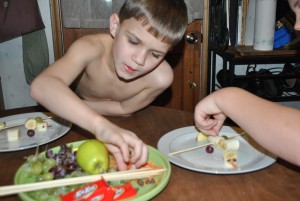 stick your head on and stick  your arms in the middle banana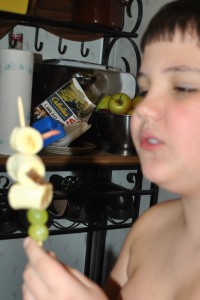 put apple slice on for brim of hat and red grape as hat top (also it keeps it stable)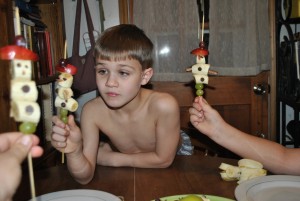 and EAT and ENJOY!!!