RECIPE AND PHOTOS SUBMITTED BY Raquel Burson-SiliesRaquel
Dublin Coddle:
Fry up some thick sliced bacon cut in about 1 inch squares.
Reserve bacon and spoon out most of the grease.
Chunk up some new potatoes if they are large, if they are smaller, leave them whole. About 1-1/2 inch to 2 inch chunks.
Slice a small cabbage into thin wedges. Take 1 pound smoked sausage and cut into 2 inch pieces.
Layer all of this in the pot, including the bacon you fried up. Season well with salt and freshly ground pepper.
Pour a can of chicken broth over top and put the lid on. I do this in an enamel dutch oven.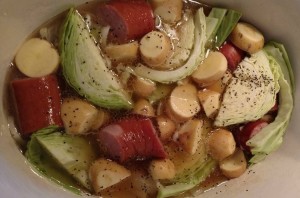 Then either pop in the oven at 300 for a three hours or so.
Can add some onion, sliced. Also can cook on top of stove, on low and let it simmer until the cabbage is done.
Serve with crusty bread and butter and dig in!