DIY dog bed! You will need: an old sweatshirt, bed pillow, polyfill or other stuffing, one lucky dog.
1. stuff sleeves and shoulder/collar area of sweatshirt (you might need to put in a few stitches to create a "pocket" in the body of the shirt.)
2. insert pillow through bottom of shirt.
3. stitch end of sleeves together
4. attach pillow "ring" to bed bottom with a few stitches. Enjoy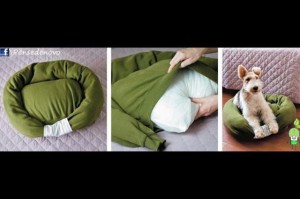 Photo and comment by Laura Humphrey
Don't mind the horrible picture taking skills but this is my version of the DIY dog bed posted earlier. My dog is jumbo sized so I adjusted it accordingly and used 2 sweatshirts, 2 blankets and 1 large pillow.
Miss Copper's new bed made from 2 sweatshirts, 2 blankets, and one pillow. Now if I could just get her to lay on it, lol!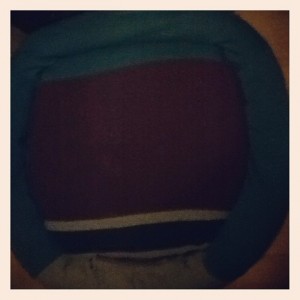 July 2022
M
T
W
T
F
S
S
« Jun
1
2
3
4
5
6
7
8
9
10
11
12
13
14
15
16
17
18
19
20
21
22
23
24
25
26
27
28
29
30
31