Disney Princess cake pops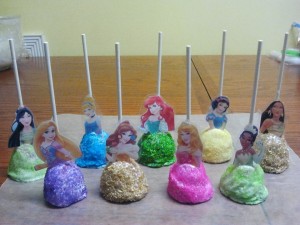 where did you get the princess parts?
Serena Adkins Ellison

YOU are just too smart!!! I absolutely love this idea out of ALL the cake pops I have seen.. My niece would go ga ga over this.. she is 5 and VERY into princesses hahahaa.. Great Job!!!! And so easy, it makes you think, why didn't I think of that pahhaa

BIRTHDAY PARTY FAVORS TOO.. !!! would be awesome!
Serena Adkins Ellison

is that just candy glitter sprinkles over the white chocolate or white almond bark?