This is a very good Salsa recipe if anyone wanted to make their own. Tomato Salsa recipe
From the kitchen of: Denise Kellum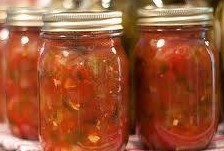 Ingredients:
7 cans Roasted tomatoes with garlic or 12 cups Roma tomatoes, peeled, chopped and drained
5 Medium onions, coarsely chopped
4 Medium green peppers (bell) , coarsely chopped
1 cup Chopped cilantro
9 Cloves garlic, chopped (omit if using roasted tomatoes with garlic)
4 Skinny hot peppers with seeds finely diced Note: make sure you are wearing rubber gloves while chopping)
16-20 Jalapenos (without seeds and finely diced) Note: make sure you are wearing rubber gloves while deseeding and chopping)
2 Limes for the juice
20 oz. Tomato paste
3-4 tsp. Cumin (round top small Rubbermaid container)
1 tsp. Coriander (square top small Rubbermaid container)
3 tsp. Salt
1 ½ cups vinegar
Directions:
1. Put ingredients into large soup pot or Dutch oven. Bring to a boil, then turn down to a simmer. Stir regularly until thickened.
2. Fill pint jars. Put seals and lids on. Process in a boiling water bath for 15 minutes.
Notes: If you sterilize jars, put in boiling water. Take out with tongs and then fill.
Yields: 1 qt. & 6 pints or 8-9 pints.