CROCK POT BARLEY STEW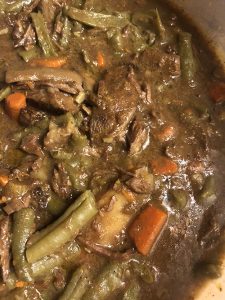 I used some cheap Beef Round Steak. (1 1/2 lbs) and some Venison Steak for more meat.
Put into crock pot add  black pepper
1 can of Beef Broth
1 can of French Onion Soup
1 can of Beef Consomme
Beefy Mushroom soup
Butter size of egg
4 oz can of mushrooms
1 bag of carrots cut up
3 celery stalks chopped
Can of Beef Vegetable with Barley Soup
or just some quick barley
put it on late, like 10 pm, let it cook all night on low
in the morning add some large chunks of potatoes and let cook until the potatoes are tender then turn to warm.
Make a slurry of cornstarch and water and add to thicken broth.. serve with green beans and Mac and cheese and Sweet Yellow Corn Bread  SO GOOD!