We call these "cream" puffs but they actually have custard cream filling inside. These are a great tea time snack in Malaysia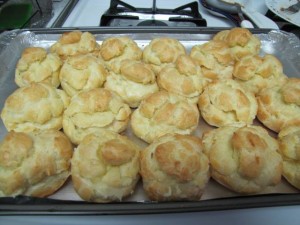 Ingredients for the cream puffs dough
1 cup of water
1 stick of butter (1/2 cup)
1/2 tsp of salt
1 cup of flour
4 eggs
1) Pre-heat oven toe 400 degree F. Grease a large baking sheet and set aside.
2) In a heavy saucepan combine water, butter and salt. Bring it up to a boil. Add in flour all at once and stir vigorously until mixture cook and turn into a ball. Remove and set aside to cool down for 10 minutes.
3) Transfer the dough to a mixer and whisk in one egg at a time, mixing it well after each addition.
4) Drop about 2 tbsp of dough into the prepared baking sheet and bake for 30-35 minutes or until cream puffs are brown. Transfer puffs to wire rack to cool.
Ingredients for Pastry Cream
1/2 cup of sugar
3 tbsp of flour
3 tbsp of cornflour
2 cups of milk
4 egg yolks
1 tsp of vanilla
1) Mix egg yolks with sugar until combined. Add in both flour and mix well. Add in milk and stir until everything combined.
2) Cook and stir over medium heat until thickened and bubbly. Cook for 1 minute more. Remove from heat and stir in vanilla. Transfer mixture to a bowl, cover with plastic wrap and let it chill in the fridge for at least 2 hours before using.
3) To assemble cut top off the puffs. Fill it with the pastry cream. (or you can make custard from custard powder)