For those who celebrate Mardis Gras, this is a dish that has been made by my daughter and is very good. Crawfish Monica
Whether or not you'll be in New Orleans to try this divine creation at Jazz Fest, now you can have it whenever your heart desires with t
his recipe from New Orleans Super chef Emeril Legasse
.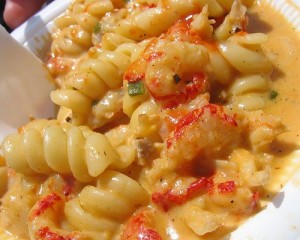 Crawfish Monica
1 pound linguine or fettucine
2 tablespoons olive oil
6 tablespoons unsalted butter
1 cup chopped yellow onions
2 tablespoons minced garlic
2 teaspoons Essence, recipe follows
1/2 teaspoon salt
1/4 teaspoon cayenne
1/4 cup dry white wine
2 cups heavy cream
1 tablespoon fresh lemon juice
1 pound crawfish tails*
1/2 cup chopped green onions
1/2 cup chopped fresh parsley leaves
1 cup grated Parmesan
Preparation
Cook the pasta in a large pot of boiling salted water until al dente, about 8 minutes. Drain, reserving 1/4 cup of the cooking liquid. Return to the pot and toss with the olive oil and reserved cooking liquid. Cover to keep warm.
In a large saute pan or skillet, melt the butter over medium-high heat. Add the onions and cook, stirring, until soft, about 5 minutes. Add the garlic, Essence, salt, and cayenne, and cook, stirring, for 1 minute. Add the white wine and cook over high heat until nearly all evaporated. Add the cream lemon juice and cook, stirring occasionally, until slightly reduced. Add the crawfish tails and cook, stirring, to warm through. Add the onions and parsley and cook for 1 minute. Add the cooked pasta and toss to coat with the sauce. Cook until the pasta is warmed through, about 1 minute. Remove from the heat and add 1/2 cup of the cheese.
Turn out into a serving bowl and top with the remaining 1/2 cup of cheese. Serve.
*Crawfish tails can be purchased online and shipped through Cajun Grocer. Peeled medium shrimp can be substituted, but the cooking time must be increased to allow thorough cooking.
PS: Can add a can of Rotel and also add a little more cayenne if you like it spicier.
Emeril's ESSENCE Creole Seasoning (also referred to as Bayou Blast):
2 1/2 tablespoons paprika
2 tablespoons salt
2 tablespoons garlic powder
1 tablespoon black pepper
1 tablespoon onion powder
1 tablespoon cayenne pepper
1 tablespoon dried oregano
1 tablespoon dried thyme
Combine all ingredients thoroughly.
Yield: 2/3 cup
Recipe courtesy of Emeril Lagasse on Food Network.
June 2023
M
T
W
T
F
S
S
« Feb
1
2
3
4
5
6
7
8
9
10
11
12
13
14
15
16
17
18
19
20
21
22
23
24
25
26
27
28
29
30