This is an antique recipe.. It's main ingredient is cracklings. (fat cooked solid like what some call fat back) Cracklings are the solid residue left from tried out pork or chicken fat and are especially flavorsome in  hot breads. They add flavor that can not be duplicated.
Most of the time people got their cracklins when they made lard, by rendering down the pork fat and the cracklins  were left after the fat separated from the oil making crisp little cracklins.. the cracklins were then used for salads, soup toppings like potato soup, or put in cornbreads and things.  You can STILL make Cracklin cornbread without making lard.. just get some fat back and bacon and cut up small and cook it down until small and crisp.. drain and use for cornbread .. will still be good, may be a little greasier than you would with cracklin from rendered lard but it will do fine.. enjoy!
CRACKLIN' CORN BREAD
1 cup yellow corn meal (can use white if desire)
1/2 cup all purpose flour
1 1/2 tsp baking powder
1/4 tsp soda
1 tsp salt
2 tsp sugar (or if your like me 2 TBSP)
1 cup buttermilk
1 egg
1/2 cup pea size cracklings (I cook up some bacon with my fat back until crisp and cut up also)
1 tbsp bacon fat for pan
Start your cracklings  (fat back and I use bacon to) on the stove.. cook till hard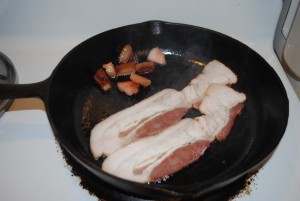 chop up bacon and your fat back should all ready be small cause you cut it up before cooking it… put back into pan and move to the side away from grease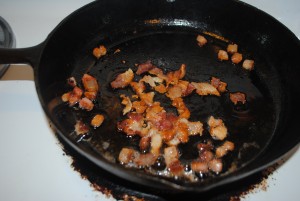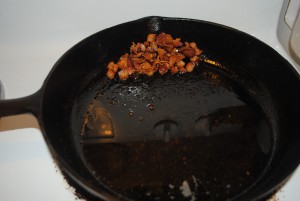 Heat a heavy 10 inch iron skillet in oven 5-10 minutes.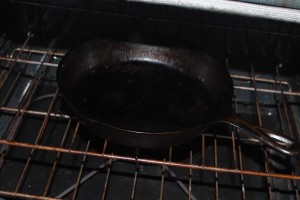 While skillet heats, spoon corn meal lightly into measuring cup. Sift flour, measure and resift 3 times with corn meal and next 4 ingredients the last time into the mixing bowl.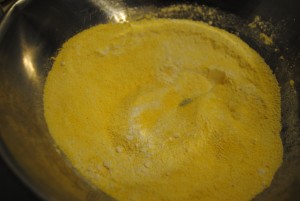 Add buttermilk, egg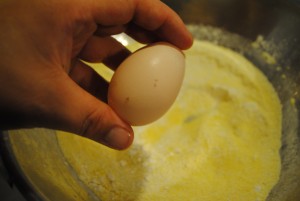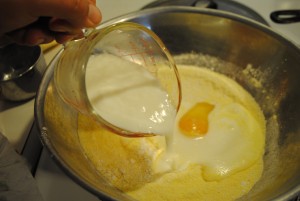 Remove skillet from oven add bacon fat and tilt back and forth to coat inside. I use a paper towel dipped in bacon fat and wipe sides of pan too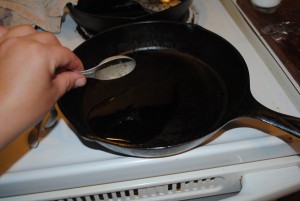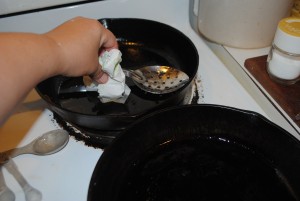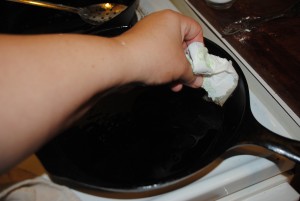 add cracklings to the batter
Beat hard until well mixed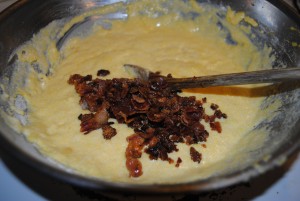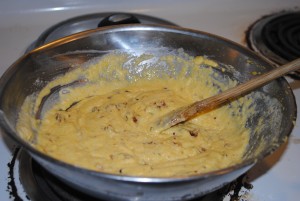 Pour batter into hot skillet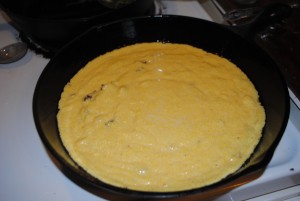 bake in hot oven (450) for 25-30 minutes the antique recipe said but only around 15 minutes for my oven…..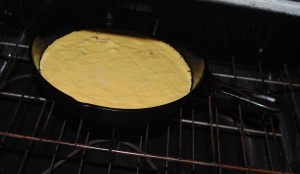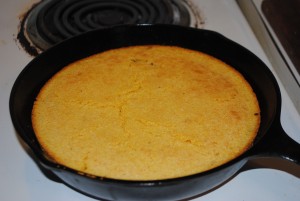 Serve very hot makes 4-5 servings.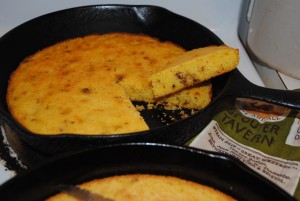 start frying  up some taters to go with your bean dinner and corn bread… Homemade Mac n Cheese is good with this meal too.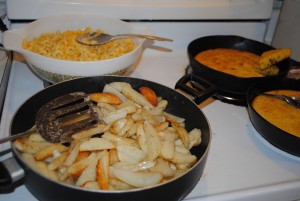 Serve cracklin' cornbread  with homemade sour kraut, brown beans, mac n cheese and fried potatoes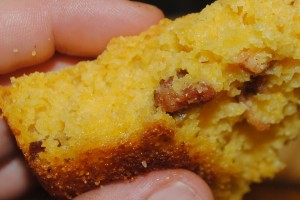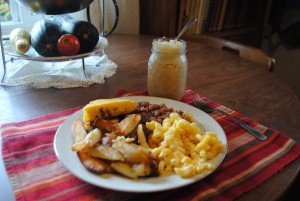 Enjoy!!!!