CRACK STICKS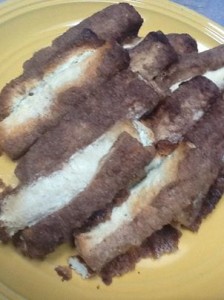 You take slices of white bread, cut the crust off, flatten with a rolling pin and spread with filling, the filling is 8 oz cream cheese mixed well with 1 cup confectioner sugar….. Roll the flattened bread with spread up 'jelly roll style' ( I did NOT know what this meant but figured it out!!) dip in butter then in 1 cup sugar n 2 tablespoons cinnamon…. Bake at 325 for 20 minutes
I like cinnamon so I used a bit more than I should have…. And When I do them again I will us the squirt butter instead of dipping in butter…..
yum.. I bet you could make some glaze like you would make for cinnamon rolls and use that to dip them with.. ooohh
So, I made the 'crack sticks'….. Makes the house smell WONDERFUL!! However, I have wasting food…. And what can I do with this 
Serena Adkins Ellison
?????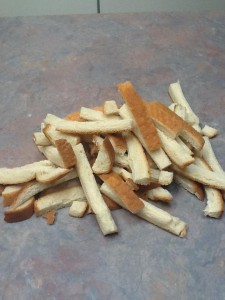 Serena Adkins Ellison
If you had a little more of these about 2 more cups you could make some bread pudding.. mmm
Natalie Coots

Cut into shorter pieces. Stir into melted butter and a little garlic salt to taste. Spread on a cookie sheet and place under the broiler until brown and crispy. Homemade salad croutons!!