CLASSIC CORNBREAD WITH A TWIST- BY CRACKERBERRIES ANDERSON

* So it might not actually be classic, but my hubby doesn't really care for cornbread because it's always dry and crumbly. I love it. I thought I'd see what I could do to make it not so dry and crumbly. Adding creamed corn to the mix was the ticket. I'll never make it any different again. Of course I might add some Chile peppers and some scrambled pork sausage to the mix, but never again without the creamed corn. YUM!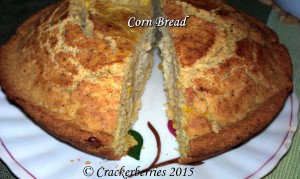 Classic Cornbread
(with a twist)*
4 tbsp. butter
1½ cups cornmeal
½ cup all-purpose flour
1 tsp. salt
1 tsp. fresh ground black pepper
½ tsp. baking powder
½ tsp. baking soda
1 large egg
1¼ cups buttermilk
½ cup creamed corn
Preheat oven to 450º. Place 1 tbsp. butter in 10" cast iron skillet and heat for 5 minutes. Combine cornmeal, flour, salt, pepper, baking powder, and baking soda in large bowl. Stir together egg, buttermilk and cream corn and add to cornmeal. Stir just to combine; add remaining butter. Pour into hot skillet.
Bake at 450º for 20 minutes or until golden brown. Cool 5 minutes and remove from pan.