RECIPE AND PHOTOS SUBMITTED BY MY FRIEND PATTY TOLLIVER from work.. =)
was good.. a lot like my butterfingers cake I make but the coconut was just so fresh and nice.. this makes an AWESOME cake to take to any party or picnic.. everyone loves the lite feel on the tummy.. not too heavy .. just right.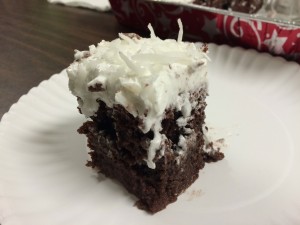 CHOCOLATE COCONUT POKE CAKE
Ingredients
1 Devils Food Cake Mix (mixed as directed on box)
1 can, cream of coconut (found in drink isle)
1 can sweetened condensed milk
1 large container cool whip
sprinkle of coconut (however much you like)
Directions
mix cake batter, put in sprayed or buttered 9×13 pan. bake as directed
take out and poke holes in cake randomly using back of a wooden spoon
While cake is still hot, pour your can of cream of coconut, then can of sweetened condensed milk over top.. let completely cool.
Next put  your cool whip over top and garnish top with sprinkles of sweetened shredded coconut.
Put back into fridge after you cover and let sit up at least a few hours.. better the next day! gives it time to set up.. eat cold.