RECIPE & PHOTOS SUBMITTED BY Patricia Stover
CAVATINI
Brown in a Dutch oven pan:
1 lb. ground chuck
¾ C chopped onions
2 Tbsp oil.
ADD:
1 lb. canned tomatoes (chopped or put through blender)
2 6oz. cans Italian tomato paste
2 C water
1 Tbsp. chopped parsley
2 tsp. salt
1 tsp. sugar
1 tsp. garlic powder or fresh garlic, minced
½ tsp. black pepper
½ tsp. oregano leaves
1 small can mushrooms
1 stick pepperoni, sliced thin (or 2-3 sm. Pkgs)
COOK Uncovered, simmer for 30 min.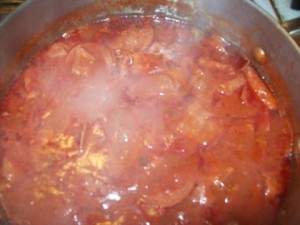 While this sauce is cooking, cook 4 different kinds of pasta (1 C of each) and drain.
In oblong baking dish, alternated sauce, pasta, mozzarella cheese layering like lasagna. The top layer should be sauce with mozzarella cheese on top.
Bake in 350 degree oven until cheese is melted.
*I usually double the sauce recipe.
NOTE: This probably looks difficult, but it isn't. It also freezes well.