CAST IRON SKILLET SCALLOPED POTATOES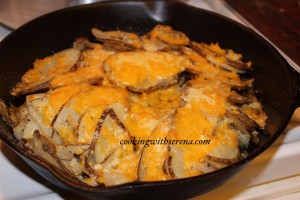 I used my food processor, you can just cut thin or use a mandolin.. cutting potatoes all the SAME thickness is key.. so they will all cook at the same time frame.
I brush a little veg oil into my cast Iron 8 inch skillet and on the sides.
next loosely layer your seasoned with salt and pepper, potatoes slices
dot with butter generously all over top.. salt again. Add a little basil and some parmesan cheese sprinkled on top and cover with foil.
put into 400 degree oven for 45 minutes and take out test with fork for tenderness then sprinkle cheddar cheese lightly over top and sprinkle parmesan cheese again over that.. put back into oven UNCOVERED just until cheese melts.. take out and let set a few minutes before serving. enjoy.