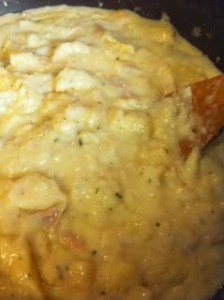 Created yet another chicken and dumpling recipe.
Boil two chicken thighs with bone in and salt until done.
Remove chicken from broth and set aside to cool.
Stain broth into large pot. Add half a box of chicken broth and cup of water
Add pepper, 1/2 stick butter, and parsley flakes.
Bring to boil
Dumplings:
One lg can buttery flakey biscuits
Flour counter
Pull biscuit layers apart into three pieces
Turn into flour
Cut biscuits in half and then in half again with a pair of kitchen shears.
Drop into boiling broth, do not stir.
Reduce heat, cover and simmer for ten minutes.
Pray….
Add chicken and a small amount of heavy whipping cream.
Best I ever ate! Thank you Jesus!
September 2021
M
T
W
T
F
S
S
« Jul
1
2
3
4
5
6
7
8
9
10
11
12
13
14
15
16
17
18
19
20
21
22
23
24
25
26
27
28
29
30