Who likes caramel corn? I do, but can't handle the hulls?
Caramel Puffcorn
2 bags butter flavor puffcorn
1 cup butter
1 cup brown sugar
1/2 cup light corn syrup
1 teaspoon baking soda
1 teaspoon vanilla (optional)
Spray a large turkey roaster with cooking spray. I put mine on a sheet pan to support it. Put puffcorn in roaster. Heat oven to 250. In a large saucepan, melt butter, brown sugar and corn syrup over medium heat until it comes to a boil. Let it boil 3-4 minutes, do not stir. When done, stir in soda, watch out, it foams up. Stir in vanilla if using. Let sit just a minute. Pour over puffcorn and stir well. Helps to use a silicone spatula. Bake 15 minutes. Stir. Bake an additional 30 minutes, stirring every 10 minutes. Spread on wax paper or parchment and let cool. Happy munching!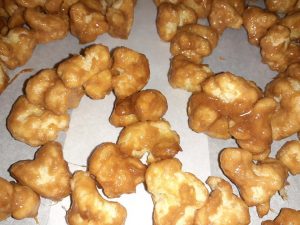 June 2023
M
T
W
T
F
S
S
« Feb
1
2
3
4
5
6
7
8
9
10
11
12
13
14
15
16
17
18
19
20
21
22
23
24
25
26
27
28
29
30