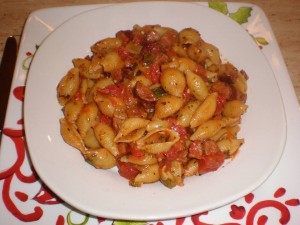 Submitted by: Laurie Lynard
Ingredients
1 tablespoon of olive oil
½ lb. of Andouille sausage
½ cup of chopped onion
½ cup of chopped green bell pepper
2 teaspoons of minced garlic
2 (14.5 ounce) cans of diced tomatoes, undrained
1 cup of water
2 cups of dry medium shell pasta
1 teaspoon of dried thyme
1 teaspoon of dried basil
1 tablespoon of dried parsley
½ teaspoon of Cajun seasoning
1 tablespoon of butter
1 green onion, sliced
Kosher salt and black pepper to taste.
Directions:
Heat olive oil in pot or skillet.
Slice sausage in half lengthwise, then chop, adding to the skilled and cooked until browned.
Stir in onion and green peppers and cook for about 5 minutes, or until tender. Add the garlic and cook another minute. Stir in the diced tomatoes and water; bring up to a boil. Add in the dry pasta, thyme, basil and parsley and Cajun seasoning. Return to a boil, reduce to medium low, cover and cook for 25 minutes or until pasta is tender and most of liquid is absorbed. Stir in butter and green onions.