"Brittany say's she got this recipe from Judy Dunbar her co worker"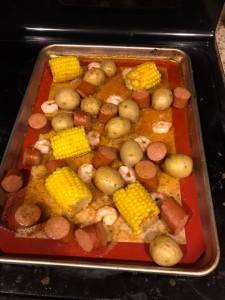 Shrimp Boil on a pan
1 pound baby Dutch yellow potatoes
3 ears corn, each cut crosswise into 6 pieces
1/4 cup unsalted butter, melted
4 cloves garlic, minced
1 tablespoon Old Bay Seasoning
1 pound medium shrimp, peeled and deveined
1 (12.8-ounce) package smoked andouille sausage, thinly sliced
1 lemon, cut into wedges
2 tablespoons chopped fresh parsley leaves
Preheat oven to 400 degrees F. Lightly oil a baking sheet or coat with nonstick spray.
In a large pot of boiling salted water, cook potatoes until just tender and parboiled, about 10-13 minutes. Stir in corn during the last 5 minutes of cooking time; drain well.
In a small bowl, combine butter, garlic and Old Bay Seasoning.
Place potatoes, corn, shrimp and sausage in a single layer onto the prepared baking sheet. Stir in butter mixture and gently toss to combine.
Place into oven and bake for 12-15 minutes, or until the shrimp are opaque and corn is tender.
Serve immediately with lemon wedges, garnished with parsley, if desired.
If I knew I was going to post it on here I would have taken a more appetizing picture lol it turned out better then expected!! Super easy