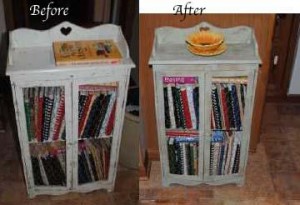 So I had an old shelf in my kitchen that held cookbooks.. it was great for what I needed it for but it really started to look dingy over the years .. this picture actually makes it look better than it really is.. it is so dingy and  it is  not real wood and it was starting to look cheap and ready for the trash pile.
.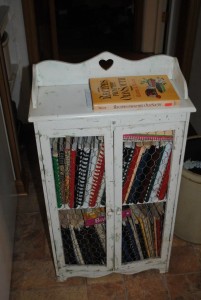 I like the old country style, worn look so I decided to try my hand at painting it and distressing it would not work because this was not real wood.. so I decided to make a faux distressed look, using two colors of paint.
My first color was an old  muted sage green color in flat paint…I painted the cabinet fully out in the hot sun.
It seemed to dry pretty quickly so I then took some brown and dry brushed onto it randomly, just where I wanted it to give it an aged effect.. some places  I went back over with the dry brush with the sage green again.. it really started to look the way I had hoped…
done.. I like it..