RECIPE AND PHOTOS SUBMITTED BY Brianna Hubbard
Baby pancakes using baby food and baby cereals.
Cooper loved them!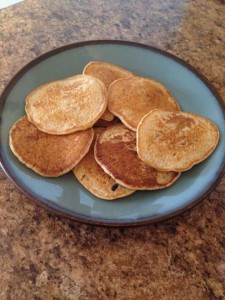 1egg
1 cup white flower or wheat flower
1/2 cup baby cereal ( I used multigrain but oatmeal or barley would work fine)
1tablespoon oil
2 teaspoons brown sugar
1 1/2 teaspoons baking powder
1tsp cinnamon
1 cap full of vanilla
1-2 tablespoons baby food (I used sweet potato but you could use any fruit or vegetable)
1 cup 100% juice (I used apple)
Add water until you reach desired consistency.