PHOTO SUBMITTED BY Beulah Roark Fleece
Thought I would show you the quilt I made for my daughter. She loves angels.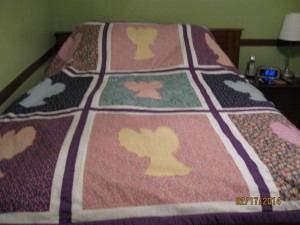 Beulah Roark Fleece

Actually I had bought a large ceramic angle for a friend of mine and when I told her I wanted to do an angle quilt she drew it for me.

eulah Roark Fleece

I'm just learning (at 66). We have a group of ladies at church and they have taught me a lot. We meet every other Saturday and work on our on project. We made our pastor a quilt for pastors day. He is very patriotic so we did one in red, white and blue.