I don't have a fancy name for this pie even though it took 2ed place at the Carroll county Frontier day fair last year so I just Call it "Plain Ole Chocolate Pie" but I must say it's mighty dang tasty and very easy to make.
Ingredients
1 ½ sticks salted butter melted butter
¾ cup firmly packed brown sugar
¾ cup white sugar
1/3 cup cocoa
1/3 cup all- purpose flour
3 large eggs room temperature
2 teaspoons pure Vanilla extract
Directions
Preheat oven to 350° Lightly grease a 9"pie plate and either roll out your crust or unroll a store bought crust to fit your pan evenly press into place trim and crimp the edges and evenly line crust with pie weights. Bake for 10 minutes remove from oven and set aside, remove weights when cool enough. Using a hand or stand mixer combine melted butter and sugars into mixing bowl and whisk together. Add eggs one at a time and continue mixing until fluffy. Add vanilla, cocoa and flour and mix at least 1 minute on medium speed, scrape down bowl when halfway complete. Pour into prepared pie crust and bake for 35 minutes. Remove from oven and place on wire rack to cool completely (about 3 hours)
Cooking notes
This is a crazy easy recipe and I have never had one fail to be really good. Not the pie in the picture but one just like it won me 2ed place last year at the Carroll County old timey fair.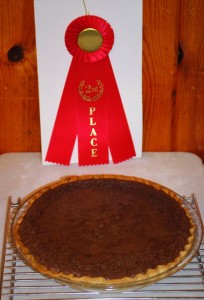 I really love baking in Pyrex pie plates they seem to cook more evenly.
If you don't have pie weights dry beans will work fairly well.
To keep the top from cracking whisk it till it gets real fluffy and the color fades just a shade.
Hope you Enjoy, Andy