Super Fudgey Brownies for the die hard chocoholics
Here's the recipe
6 oz. unsweetened baking Chocolate squares
1 cup salted butter, softened
4 large eggs
2 cups white sugar
1 Tbsp. pure vanilla extract
1/2 cup all-purpose flour
1 cup (6 oz.) semisweet Chocolate Chips
DIRECTIONS:
Melt unsweetened baking chocolate and butter over medium-low heat, stirring constantly until almost melted. Remove from heat and stir until completely melted. Set aside.
In a large bowl, beat eggs until light yellow in color, approx. 5 minutes. Add sugar and mix thoroughly.
Add vanilla and melted chocolate to the egg and sugar mixture. Mix until smooth, then add the flour and mix thoroughly.
Pour batter into greased 9″ x 13″ baking pan. 8″ X 8″ pan will work too, but may need to bake longer. Smooth with a spatula. Sprinkles chocolate chips on top.
Bake on the center rack at 300* F for 45-55 minutes. A clean toothpick placed in the center of the brownies indicates they are done. Do not overbake.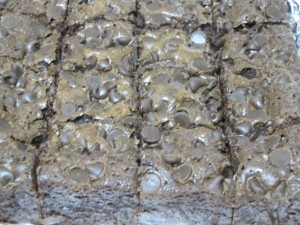 Cool to room temperature, cover and place in the refrigerator to chill for at least 1 hour. Cut into 2″ squares and serve chilled.