The recipe for my Bacon Buns!… Yes it's a "Tried&True" recipe:)))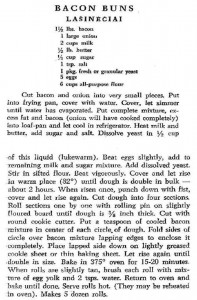 BACON BUNS
(LASINECIAI)
1 1/2 pounds bacon
1 large onion
2 cups milk
1/2 lb butter
1/2 cup sugar
1 tsp salt
1 pkg fresh or granular yeast
6 cups all purpose flour
Cut bacon and onions into very small pieces put into frying pan cover with water.
cover let simmer till water is evaporated.
put complete mixture, excess fat, and bacon (onion will have cooked completely)
into loaf pan and let cook in refrigerator
Heat milk and butter add sugar add salt.  Dissolve yeast in 1/2 cup of this lukewarm liquid
Beat eggs slightly,add to remaining milk and sugar mixture. Add dissolved yeast. Stir in sifted flour. Beat vigorously
Cover and let rise in warm place (82 degrees)
until dough is doubled in bulk
-about two hours.
When risen once, punch down with fist, cover and let rise again.  Cut dough into four sections . Roll sections, one by one with rolling pin, on slightly floured board or unil dough is 3/8 inch thick.
'Cut with round cookie cutter. Put a tsp of cooled bacon mixture in center of each circle of dough. Fold sides of  circle over bacon mixture, lapping edges to enclose it completely. Place lapped side down, on lightly greased cookie sheet. Let rise again until doubled in size.  Bake at 375 for 15-20 minutes, When rolls are slightly tan, brush each roll with mixture of egg  yolk and 2 tsp water.. return to oven and bake till done and golden. Serve hot, rolls may be reheated in oven Makes 5 dozen.
Step by step instructions for lithuanian Bacon Buns…
Step 1
Step 2
Step 3
Step4