RECIPE AND PHOTO SUBMITTED BY Judith Parady Rice
Banana nut muffins made this AM.One batch w/ white Choc. chips, and the other w/ peanut butter chips.I made some for big and little nibblers.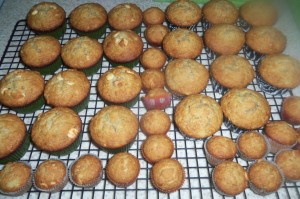 I used King Arthur Flour,and they turned out perfect.
2 cups flour
1tsp.fine sea salt
1tsp. baking soda in sifter,Set aside.
In lg mixing bowl add 1/2 c. really soft butter
1/2 cup Crisco oil
1 cup white sugar,
2 eggs
1tsp.vanilla.
Beat all together,w/ elec. mixer,
then stir in 3 mashed ,ripe bananas
and 1/4 c. oat bran
add 1/2 cup walnuts
add 1/2 cup white choc. chips(or chips you like).
I used Chiradelli Classic White Choc. Chips in one batch and peanut butter in the second batch.
For bread-350-40-45 min,for muffins20-25 min.
Enjoy!!