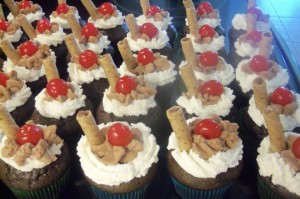 For cupcakes I used my Chocolate Mayonaise cake recipe.,but you can use your favorite rec. if you like.
I also doubled the recipe to get 32 cupcakes.
2 cup. flour,
1cup white sugar,
1/2 cup cocoa,
2tsp. b. soda,
1/4 tsp. salt.
In lg bowl -sift in flour,
add 1 cup mayo,
1tsp.vanilla,
and 1 cup cold water
and blend well with mixer.
Fill baking cups, full,and bake 20 min.or more till tops feel firm.-350 oven
Cool completely.
Icing:I also doubled this rec. 1/2 cup Crisco, 1/2 cup butter(soft).1 tsp. van I use Clear van.,for white icing.4 c. conf. sugar.2 Tbls half and half.
If I dbl, I use 1 c. Crisco and 1 stick butter.I add conf sugar one c. at a time until I think it's right for the decorating bag.I use a lg star tip.To the same icing I added 2 squares of bakers simi sw. choc.his point you may have to thin icing w/ a little milk.
Put a cherry on top and cut the Pepperidge Farm,chocolate Hazelnut Pirouettes in half and slace it where you want it in your cupcake. Have fun!