RECIPE AND PHOTO SUBMITTED BY 

Rosetta Sperring

To Tried and True Recipes on Facebook
Lemon Glow Chiffon Cake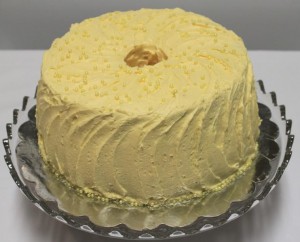 Ingredients:
2 and 1/4 cup sifted cake flour
1 and 1/2 cups sugar (reserve 2 Tablespoons for egg white)
1/2 teaspoon baking soda
1/2 teaspoon salt
1/2 liquid cup Safflower oil
1 and ¼ cup egg whites (room temperature)…..(approx 7 to 10 eggs)
½ cup egg yolks (room temperature)
2/3 liquid cup water
2 Tablespoons lemon juice, freshly squeezed
1 Tablespoon grated lemon zest
1 Tablespoon vanilla
1 and 1/4 teaspoons cream of tartar
Directions:
1. Preheat oven to 325F
2. Large mixing bowl: combine flour, all but 2 T of the sugar, baking soda, salt and beat 1 minute.
3. Make a well in the center. Add the oil, egg yolk, water, lemon juice, lemon zest, vanilla and beat 1 min or until smooth.
4. In another mixing bowl, beat the egg whites until frothy, add the cream of tartar, and beat until soft peaks form when the beater is raised. Beat in 2 T sugar and beat until stiff peaks form when the beater is raised slowly.
5. Gently fold in the egg whites into the batter with a large balloon wire whisk, slotted skimmer, or angel food cake folder until just blended. Do not mix it to flatten the air bubbles.
6. Pour into the tube pan (batter will come to 1 inch from the top). Run a small metal spatula or knife through the batter to prevent air pockets.
7. Bake for 55 minutes or until cake tester inserted in the center comes out clean and the cake springs back when lightly pressed in the center.
8. Invert the pan, placing the tube opening over the neck of a soda or wine bottle to suspend it well above the counter.
9. Cool the cake completely in the pan (1 and 1/2 hours).
10. Loosen the sides with a long metal spatula and remove the center core of pan. Dislodge the bottom and center core with a metal spatula or thin, sharp knife.
11. Invert onto greased wire rack and turn over onto a serving plate.
* Store: 3 days – room temp, 10 days refrigerated, 2 months frozen.
12. Once cake has cooled, sprinkle with powdered sugar or ice with Lemon Butter Icing (recipe below).
Lemon Butter Icing  (1950′s)
Ingredients:
3 and ½ cups sifted confectioners' sugar
½ cup butter (room temperature)
3 Tablespoons lemon juice (freshly squeezed).
1 teaspoon lemon zest
2 to 3 drops of lemon food coloring, optional
Instructions:
Blend together the confectioners' sugar and the butter; stir in the lemon juice, lemon zest and food coloring (optional) until the frosting is the desired consistency to spread