HOMEMADE CHICKEN NOODLE SOUP – WITH ELECTRIC PRESSURE COOKER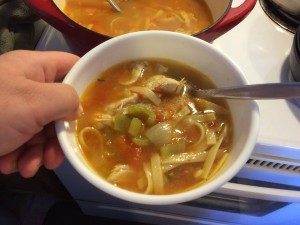 HEALTHY – FAST – AND EASY!!!!
HOMEMADE CHICKEN NOODLE SOUP made in Electric Pressure Cooker
So I always make my Grandpa Tony Farruggia's homemade chicken soup, stock and all , it takes a long time, I make it in a big stock pot  using a whole chicken and you debone, fish out fat ect.. but it is DELICIOUS…. WELL.. I am super sick right now.. and I NEED HIS SOUP.. but I can't wait that long and I can't not fish out fat and bones while I am so queasy right now.. so
here is what I done I made it in my electric pressure cooker
Note: (I ran it twice, the first time emptied out into my pot on stove and ran the pressure cooker again so I would have plenty of soup, the pressure cooker unfortunately don't hold as much soup as we are used to making in this big Italian Family.. my only complaint by the way with my electric pressure cooker)
You HAVE to get you one if you don't already have one, mine is by Cuisinart, I carefully read all reviews on so many and this was the one.. . So awesome..
SO back to the chicken soup- I literally threw the stuff in there, no measuring required guy's- (like I measure anyways) – so  put in the pressure cooker, some baby frozen carrots, some sliced onion, a clove of minced garlic, some sliced celery, salt and pepper, parsley flakes, handful of FROZEN skinless chicken breasts straight out of my freezer, and 2 cups chicken broth
I Ran the pressure cooker for 25 minutes.. with this one you can walk away like a crock pot,  this pressure cooker won't explode like my other pressure cookers that I have to stand over.. when this first batch was done I poured it into the pot on stove,
I ran another batch with just one  chicken breast a  chicken bullion cube a quart of water and 1 home canned quart of tomatoes
and while the second batch was going in pressure cooker, I just simply broke up some fettucini noodles and boiled on the stove in the first batch till aldente.. when the pressure cooker was done I added the rest to the pot and I was done .. so easy and no deboning at all!
ENJOY.. BEST OF ALL .. IT TASTED LIKE IT HAD BEEN STEWING ALL DAY!!!!!