Simple and delicious..  an easy after work meal to keep the family satisfied.
VENISON WITH BEEF GRAVY SERVED OVER RICE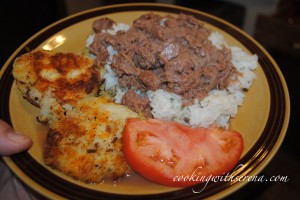 Ok so I can my own venison but if you are adverse to using venison you can use canned beef in it's place.. (Click here for recipe to canned venison http://cookingwithserena.com/?p=228 )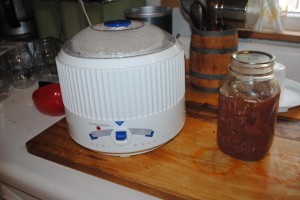 I steam some white  rice, (how much is according to how many you are feeding,  after steamed mine was about 5 cups… )
meanwhile, I simply grab a quart or two of my canned venison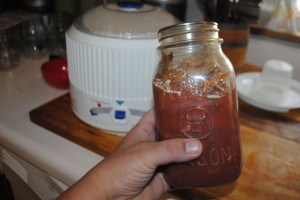 and heat up on stove, add a little pepper, garlic powder and a dash of salt
Then I take a Tbsp of cornstarch and mix in cup with a tiny bit of water with fork.. then add to the liquid in my pot stirring to barely thicken a bit..I want it runny but thick enough that it will cling to my rice a bit.. you understand.
After my rice is steamed I add a little butter and some salt and I fluff with fork..
I then serve my venison with beef gravy over top of my rice, usually with a slice of tomato, mac and cheese and fried bread.. but today I had leftover mashed potatoes so I made some fried cheesy potato cakes to go with it… I know, I know, two starches in one meal.. whatever.. LOL we like it so who cares about the rules.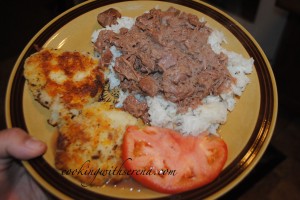 I hope you enjoy!
May 2023
M
T
W
T
F
S
S
« Feb
1
2
3
4
5
6
7
8
9
10
11
12
13
14
15
16
17
18
19
20
21
22
23
24
25
26
27
28
29
30
31