CANNED BLUEBERRIES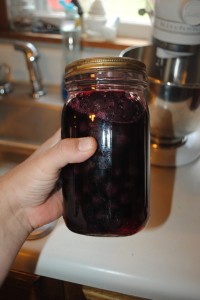 Wash, remove stems- pack in jars- cover with boiling heavy or medium syrup.
Hot water bath at 20 minutes or bring to ten pounds pressure then turn off canner and let pressure come down naturally..
NOW HOW TO MAKE YOUR SYRUP
Heat peach syrup through in very light,  or medium syrup or water.(rule of thumb TWO cups sugar to every 1 cup water for syrup, I also add white corn syrup to my syrup) boil till it is no longer cloudy but CLEAR meaning all sugar has dissolved.. taste carefully before adding to your jars..
To use: Use for Quick  pies and Cobblers