STEAK AND CHEESE SLIDERS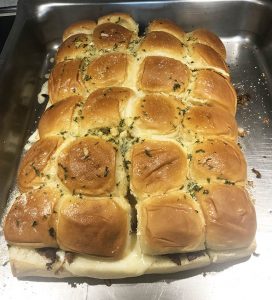 2 Pkgs  Thinly sliced Beef Steak
1 family size pkg Hawaiian sweet rolls
Provelone cheese
mozzarella shredded cheese
mushrooms
bell pepper
onion
salt
pepper
mayonnaise
italian seasoning
garlic powder
butter
parsley
Sweet Baby Ray's Honey Mustard
Parmesan Cheese
Aluminum foil
Directions
On Stovetop cook Meat till done. Cook your  Onions, Peppers, and Mushrooms in butter till tender.
Slice Hawaiian Rolls all at once in middle with bread knife,
Add mayo on bottom layer, then meat, then add veggies on all or half of rolls (according to your family's tastes, if someone don't like veggies just leave them off their end)
Add Provolone cheese on top, sprinkle with Mozzarella cheese, Top with buns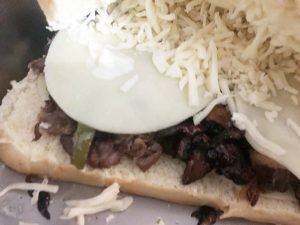 In a bowl mix melted butter, parsley, garlic powder, Italian seasoning, squirt of sweet baby rays sweet honey mustard and mix well. Brush on top of buns and pour over till all of it is gone.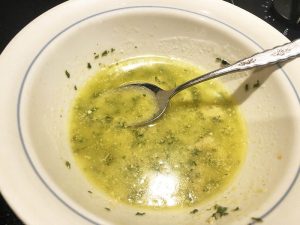 Cover pan with aluminum foil tightly and bake in oven at 350 for 10-15 minutes. take out and sprinkle Parmesan cheese on top and serve up to hungry boys.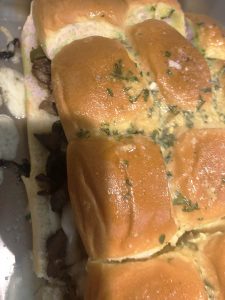 Enjoy!  Great with potato soup.