RECIPE AND PHOTO SUBMITTED BY Shawnna Henn
I made some snickers & chocolate covered popcorn. Looks gross but it is sooo yummmyy.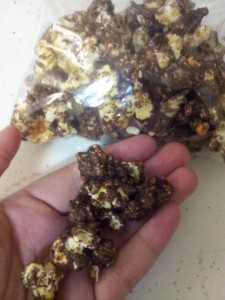 pop bags of popcorn like normal. Melt down bag of chocolate chips.
Chop up snickers bars into small chunks.
Once chocolate is melted pour on top of popcorn.
Then use hands to completely mix. It will get messy.
Then add snickers. Put into fridge to harden chocolate. Yummmm
Im just keeping it in the fridge in baggies bc it tastes better to me with the chocolate still hard. I'm thinking I'm going to get those.christmas tins that you put treatanin and fill them with this and give them as gifts!!! And of course you can share it! Let me get you the pinterest link that i got the receipe from so its more fancy.